My Garden, Too!
Tiger Lilies
Welcome to my second garden page. I have so much to share that I couldn't fit it all in one page. In fact, I do believe I'm going to need a couple of pages more. After that I promise to stick to updates as the season progresses. The lilies above were blooming just a short while ago. I'm glad I have the photo to extend the season with.


Grapevine
Can you believe that this grapevine is only two year's old? I'd love to show you the beautiful arbor that Jim built for it, but I'm afraid it's all covered up. If the birds don't eat them all, we should be swimming in grapes!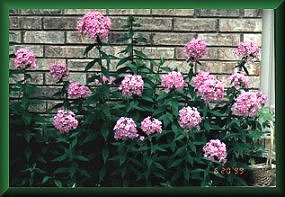 Summer Phlox
Summer phlox are in bloom, which pleases the hummingbirds immensely. The lavendar ones are always first, and the bright pink ones should begin blooming any time.
Birdbath Garden
This bed was started last summer and added to this spring. It has all been done with divisions that I plucked from here and there in the garden. It's pretty shady here and is filled with various kinds of ferns, hosta, and lirope...with a few impatiens scattered around for color, and just to fill space while everything grows.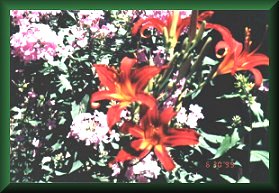 Daylilies & Phlox
The daylilies are just about done now, but they were at their peak when this was snapped. The phlox are still doing well. I have found that phlox and daylilies both do well enough to grow in my shady yard. They don't bloom as profusely as they would in full sun but are more than adequate to provide the color I am looking for.
Daylilies
The daylilies are in a location that gets a little more than half sun. There are lots of different varieties, but don't ask me to name them! I've been trying to think of which one is my favorite, but it's kinda like asking which is your favorite child...they all are!!






View My Guestbook&nbsp
&nbsp Sign My Guestbook


View My Archived Guestbook




Phenomenal Women Of The WebŪ
PhenomenalWomen.com