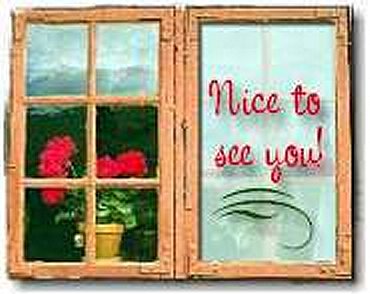 More Garden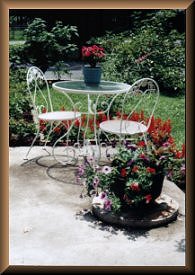 Welcome to another of my garden pages. I promise that this will be the last...except for the Water Garden page! So pull up a chair, make yourself at home, and come back often. I intend to update all summer long as I continue to chronicle my garden's evolution from a dense patch of woods into the park that I envision.



Birdhouse
Jim built this birdhouse and nailed it on top of the grape arbor. Since then, it has been home to house finches, chickadees, and bluebirds.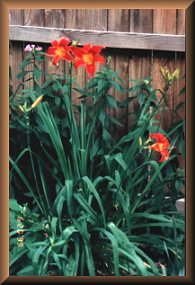 Red Daylilies
These daylilies were a pass-along plant from my mom's sister. Many of the plants in my garden were started as divisions that were given to me by relatives and neighbors. Every time I look at one I am reminded of the person that gave it to me, and that makes it all the more special.

Springtime Garden
This is how the central part of the garden looked in mid June. You can see the daylilies beginning to bloom and the impatiens growing around a pink althea that we planted last summer. Notice the pond over in the far corner, and the birdbath in the center. The water draws lots of different birds to my yard.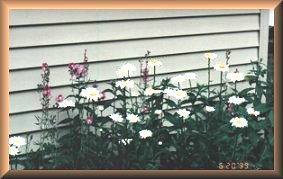 Shasta Daisies
I don't have too many places in my yard to grow sun loving plants, but here, beside the gardening shed, I have shasta daisies and miniature hollyhocks. Summer phlox will be blooming when these are finished.